DAF promotes ACP products in Global Sources Electronic Components magazine
We continue promoting our product range.
Our Hong Kong and China based distributor DAF Enterprises Ltd. has recently published this advert in Global Sources Electronic Components magazine.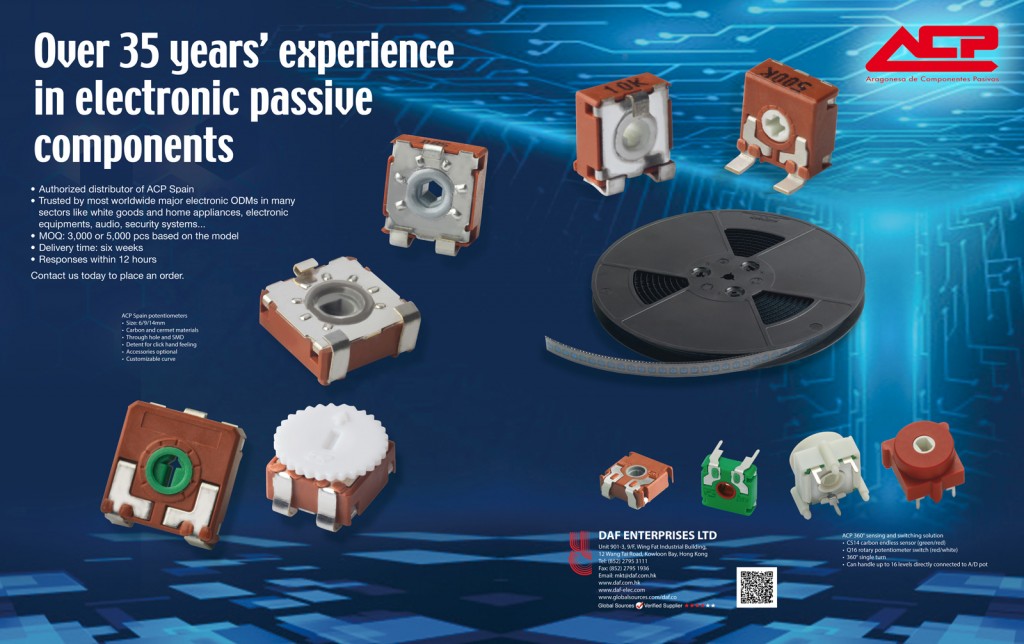 The ad shows pictures of the SMD ACP potentiometer series in 6/9/14mm square shape sizes.
Available for Horizontal and Vertical mount versions, all of them can perform standard linear, log or antilog tapers as well as stepped curves combined with detents. The latter is ideal for microcontroller interconnection through the A/D port.
Most of the features offered in our standard THT mount are also available in the SMD versions. The T&R packing allows a cost efficient assembly onto the PCB surface.
The family of ACP 360º potentiometers, both for control and position sensing is also present in the ad:
- The versatile CS14 series, with its range of configurations for control applications and position sensing, with mechanical life ranging from 1000 up to 1million turns.
- The Q16 series performing evenly spread robust mechanical detents along the full turn, ideal for Function Selection on Appliances.
All our product range is customizable to adapt and meet your needs.
For more details surf our web and please, get in touch with your ACP sales channel for technical advice and orders.
DAF Enterprises Ltd. is an authorized ACP distributor in Hong Kong and Mainland China and provides service through their qualified sales team and offering local stock.
You can share this story by using your social accounts.
You can share this story by using your social accounts: