MCS14mm carbon potentiometer with plastic enclosure and shaft.Thanks to the CS14 placed inside its plastic enclousure, we can achive 360º of mechanical rotation (electrical angle up to 330º).
The plastic enclosure is fitted with a bushing for fixation to a panel through a nut and a washer.
Through-hole and pluggable configurations are available. Terminals and collector are manufactured in tinned brass, although versions with steel terminals are also available under request. Terminals for through-hole models can be provided straight or crimped, which helps hold the component to the PCB during soldering.
Ingress Protection rating type IP 54 (high level of protection against dust and also against water splashing), according to IEC 60529. Plastic materials (housing and rotor) are self-extinguishable according to UL 94 V-0 for ACP's cermet potentiometers.
Tapers can be linear, log and antilog; special tapers can also be studied.
Potentiometers can be manufactured in a wide range of possibilities regarding:
-Resistance value.
-Tolerance.
-Tapers / variation laws. -Pitch. -Positioning of the wiper (the standard is at 50%).
-Housing and rotor color. -Mechanical life. -Click effect (up to 50 detents available).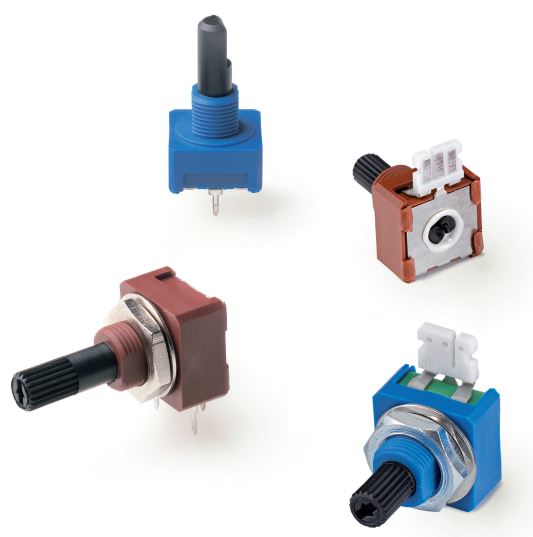 Electronic appliances, heating, HVAC systems, thermostats, washing machines, dishwashers, tumble-dryers, etc...