This product family borns as an alternative to the RS14 series when curved designs appear. Housing shape has been modified in order to set the product properly.
14mm Rotary Sensor appropiated for position sensing and control applications capable of withstanding high configurations of mechanical life.
Standard: 100.000, 150.000 and 250.000 cycles
Long life: up to 1.000.000 cycles (please, inquiry)
RS14 has plastic housing and Ingress Protection rating type IP 54 (high level of protection against dust and also against water splashing), according to IEC 60529. Plastic materials can be self-extinguishable according to UL 94 V-0 under request.
Through-hole and SMD configurations are available. Terminals and collector are manufactured in tinned brass, although versions with steel terminals are also available under request. Terminals for through-hole models can be provided straight or crimped, which helps hold the component to the PCB during soldering.
Standard taper is linear, with independent linearity of ±3%. ACP can study other special tapers (even cut tracks, step curves with areas of constant value, etc), as well as more strict linearity.
Thumbwheels and shafts can be provided either separately or already inserted in the sensor. Our RS14 can be manufactured in a wide range of possibilities regarding: resistance value, tolerance, tapers, pitch, positioning of the wiper, housing and rotor color.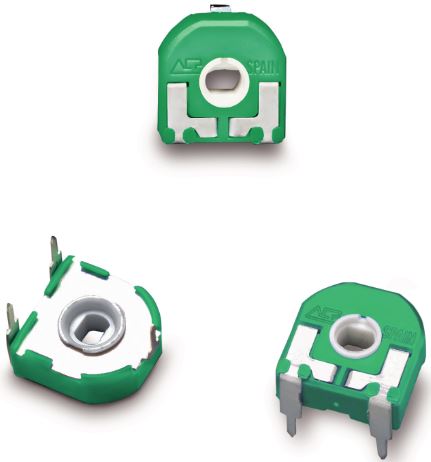 - Household appliances: temperature control, position sensor.
- Automotive: position adjustment and sensing.
- Industrial controls.